You Made It Happen!
The Center for Post Carbon Logistics Achieves Fundraising Goal

Meet the Andrus Sustainable Logistics Fellow Apollonia Supercargo Brad Vogel. Brad has been at the forefront of developing an alternate green logistics framework in the NY region since 2019, and we are excited to see him going full time on the sustainable shipping and logistics front. He will start the fellowship in June of this year.
The Center for Post Carbon Logistics (C4PCL) has met its fundraising goal for the Erik Andrus Sustainability Fellowship. So many of you helped make that happen – and the C4PCL, the Schooner Apollonia, and all the organizations and businesses that will benefit from Brad's work, could not be more grateful!

Brad Aboard Apollonia
The new Fellow will help Apollonia and other sustainable ventures in the Hudson Valley and New York Harbor grow a robust regional green logistics network. Building that network will reduce emissions in communities in the Hudson Valley and New York City.
Congratulations to Brad – and a special thanks to the many generous donors. We hope everyone will continue to support the C4PCL's efforts to build green logistics capacity in our region.
 You can can continue to support the new Andrus Fellowship and the mission of the Center for Post Carbon Logistics.  Please consider making a tax-deductible donation here . If you don't require a receipt you can donate by check here.  
Some background:
The Erik Andrus Sustainable Regional Logistics Fellowship is a project of The Center for Post Carbon Logistics. The position is named for Erik Andrus, the rice farmer who created the Vermont Sail Freight vessel Ceres and inspired many regional "make-sustainability-real" efforts. As such the Coordinator will emphasize practical, day-to-day work, but also fundraising and meeting with various governmental and commercial entities, toward these goals but also emphasize sharing of information and building of community to aid in the overall effort.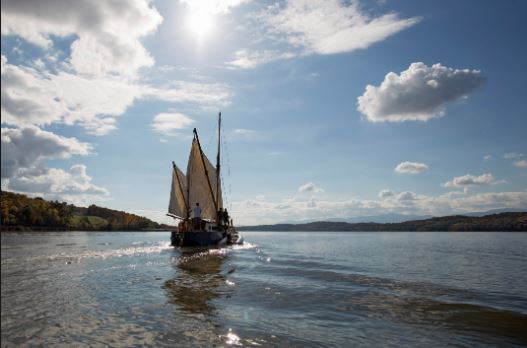 The Andrus Fellow (coordinator) will initiate, support, and develop a sustainable logistics network that links manufacturers, suppliers, wholesalers, retailers and consumers, key components of sustainable transport supply chain on the Hudson, the New York State canal system, New York Harbor, and coastal New York. This sustainable logistics network will reduce fossil fuel use and carbon emissions from the transportation of goods and people throughout the region.
Schooner Apollonia is America's only sustainable sail freight vessel, operating on the Hudson River and in New York Harbor. Over the past three years, Apollonia has shipped over a hundred thousand pounds of goods by wind, reducing regional emissions. Apollonia has made something clear: taking action to build toward a more sustainable post-carbon approach to logistics is possible in our region. Even if the initial steps are small, we need to act.


Inspired by Apollonia's work, it's time to take the next step toward greater regional impact – with a full-time fellow dedicated to sustaining and growing tangible, feasible low carbon transport projects. Your tax-deductible donation to the Center for Post Carbon Logistics will support the hiring of the Andrus Sustainability Fellow to maintain and grow the expanding regional green logistics network that Apollonia has helped pioneer.
In the first year, the Fellow will serve the Schooner Apollonia in expanding and strengthening the logistical backbone of its sustainable sail freight network of distribution, storage, transport, and fulfillment services, while also providing support to a select group of regional low/no carbon first and last mile logistics companies, producers, purveyors, wholesalers, retailers, and end users.
Specific tasks will include but may not be limited to:
Documenting, improving, and expanding Apollonia's existing trade routes
Providing outreach and interpretation of Apollonia's mission through virtual, customer venues, and "on dock" events.
Coordinating with other decarbonization efforts (both high profile and/or small-scale) across a range of prospective community-centered and commercial ventures
Analyzing and greening every logistical input to and output from the Apollonia's existing trade routes with over 100 shipping partners.
Being the point of contact for the 20+ existing docking partners (private, municipal, and non-profit), the hundreds of individual customers, low no carbon first and last mile logistics providers, and thousands of supporters.
Although initially focused on wind-powered vessels, all practicable methods of eliminating fossil fuel-powered transport will be a priority. The coordinator will also promote solar vessels, live/electric cargo bicycles and trailers, as well as electric, biofuel and hydrogen powered vehicles, and will participate in the development of a regional network of linked low/no-carbon businesses, organizations, and institutions, and the establishment of resilient regional micro-hubs (ranging from moderate-scale ports and required infrastructure, depots and warehouses, and partnerships with on-call green transport support networks).
The long-term aim is to develop a regenerative regional for profit/not for profit hybrid cooperative logistics provider that takes on and continues the work of the fellowship. The goal of both the fellowship and the emergent entity is the same: to create and promote real, practical, resilient change, to build tangibly toward a future of an operational post carbon logistics with end-to-end management of specific services, a vital part of maritime based supply chain management.
During the initial year of the fellowship, the coordinator will liaise with the Director of The Center for Post Carbon Logistics and the Captain of Schooner Apollonia on a regular basis. The role, in the first year, reflecting the work required for coordinating, executing, and improving Apollonia's existing logistics and growing the regional sustainability network. Thank you for supporting this important position, program, and its outcome.
Click here to make a tax-deductible donation.