Please support the Sustainable Logistics Fellow and the important work of the Center for Post Carbon Logistics with a contribution.
Highlights from the Andrus Fellowship to date: June – November 2023
Captain Sam Merrett and "Supercargo" Brad Vogel aboard the Schooner Apollonia
Inaugural Andrus Fellow Brad Vogel has spent six busy months working to both:
tangibly grow the regional sustainable logistics network and
strategize/collaborate for future growth of that network in the greater Hudson Valley and greater New York Harbor regions.
While the Fellowship's focus continues to center on the waterborne sustainable sail freight route run by the Schooner Apollonia, it also encompassed significant shore-side and ship-to-shore elements designed to increase multi-modal linkages for moving goods while optimizing to reduce or eliminate carbon-based emissions.
Tangibly Growing the Regional Sustainable Logistics Network – On-Water
Route Map
Additional routes where sustainable low/no carbon transport of goods to and/or from a new port of call via sail freight shipping (wind, tide and current powered) was made possible through the planning, coordination, and logistical efforts of the Andrus Fellow:
Direct Sail Freight Service to/from New Ports (connecting existing Schooner Apollonia network): West Haverstraw, NY, Dobbs Ferry, NY, Brooklyn Navy Yard, Brooklyn Greenpoint, Brooklyn Gowanus, Brooklyn Hoboken, NJ.
On-Ship Sail Freight Service to New Ports (on-shipping from an existing Apollonia docking site): Rockaways, Queens (via the schooner Deliverance from Red Hook, Brooklyn)
On-Ship Sail Freight Service from New Ports (on-shipping from to existing Apollonia ports): St. Malo, Brittany, France (via the schooner Grain de Sail I to all Apollonia ports)
These expansions of sail freight service opened new port nodes and made it possible for businesses, organizations, and individuals in those ports to participate in the existing Schooner Apollonia sail freight network, which has now expanded to include approximately 30 proven ports of call, as well as an international sail freight linkage via the French company Grain de Sail.
Tangibly Growing the Regional Sustainable Logistics Network – Shoreside
A key part of the Fellow's mission is to expand shoreside linkages to and from the water's edge that are more sustainable than baseline fossil fuel-powered vehicles. Replacing links in the network in New York that ties into the existing Schooner Apollonia riverine network helps to "green the branches out from the trunk" that has been established.
Germantown to Hudson electric truck Shore Angel
Ossining dock to brewery EV convoy of Shore Angels
Clinton Corners to Poughkeepsie EV Shore Angels
Kingston to Poughkeepsie Shore Angel Poughkeepsie dock to breweries EV Shore Angels
Newburgh dock to brewery cargo bike route
West Haverstraw dock to brewery cargo bike route
Marine Park Brooklyn to Brooklyn Bridge Park EV Shore Angel
Coxsackie to Hudson EV Shore Angel
Gowanus to Brooklyn Bridge Park cargo bike
Vulture Carter Long Island City to Greenpoint cargo bike
Vulture Carter Greenpoint dock to brewery and restaurant cargo bike route
Gowanus to Red Hook cargo bike Vulture Carter
Red Hook to Gowanus cargo bike
Vulture Carter Brooklyn Navy Yard to Greenpoint cargo bike
cargo bike route Brooklyn Bridge Park to Red Hook
Proving these potential replacement means/conveyances even in a pilot mode helps to build the muscle memory, institutional memory, and community necessary to further develop and make the more sustainable methods permanent. Cargo bikes and trailers, a collective of cargo bike enthusiasts, a biodiesel truck, and a variety of electric vehicle drivers all contributed to building out these links, many of them falling under the Shore Angel volunteer program developed by the Fellow in coordination with the Schooner Apollonia team.
Diversifying, Expanding Cargoes Carried by Regional Sail Freight & Shoreside Network
Growing and proving new potential cargoes as suitable for transport within the existing/growing sustainable shipping network in the region is another ongoing goal of the Fellow. The following cargo types moved through the regional sustainable shipping system centered on Schooner Apollonia for the first time in 2023 due to the Fellow's efforts:
Cross Branding
Lumber
Sunflower oil
Kegs of beer
Cheese
Cutting boards
Compost soil
Air compressors
Rowboats
Bat boxes
Nuts
Black currant juice
Field salt
Sail cloth
Meat sticks
Kelp paper
Granola
Upcycled soap
Soda
Bread bricks
Norwegian crackers
Dried black currants
Compost inputs
Double sail freight coffee
Marinara sauce
Wind Shipped
Demonstrating the ability of the system to move goods (whether as a new typology/form or as a new market segment) successfully helps to facilitate further future growth of cargoes in those categories. Broadening the conception of what goods "work" provides a beach head for new prospective shipping partners who may not have seen themselves as eligible or relevant previously.
Planning for Regional Linkages to International Sustainable Shipping Ventures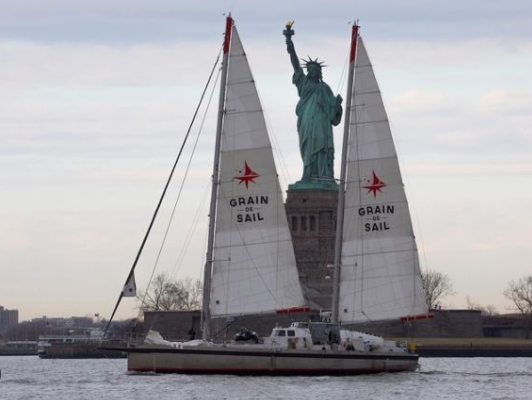 Connecting the existing regional sustainable shipping network into the growing global network of international sustainable shipping is a continuing priority for the Fellow. The following efforts went into building greater linkages and helping to anticipate expected increases in interconnection at the Port of NY and NJ.
Consultation/Planning on Decarbonizing Goods Transport Systems
The Fellowship provided a public-facing position that community members sought out for more thought and leadership on decarbonizing systems and the movement of goods across a wide range of spaces. The following list is illustrative and not comprehensive; there have been many, many instances where the role has helped to focus, catalyze, or advance ideas for decarbonizing transport of goods at multiple levels.
REV X – Ongoing discussions seeking opportunities to utilize cargo bike/pedicab transport services in New York City.
Merchants of Ellenville, NY – Discussions with Ulster County Economic Development and sustainability officials, as well as APA NY Metro Chapter leadership, regarding piggybacking freight usage of UCAT bus system to connect Kingston, Ellenville, and hamlets in between and obviating the need for multiple duplicative fossil fuel-powered vehicular trips.
City of Kingston – Discussions with Julie Noble, sustainability lead, regarding the possibility of a ferry connecting Rhinecliff Amtrack station with Kingston (potentially chartering solar vessel Solaris) and the need for a connector trolley up from Rondout into rest of Kingston.
Discussions with NY Harbor tug boat company contact about carbon limits and means of decarbonizing maritime systems.
Creations Therrien – Discussions about finding alternate low carbon transport methods for live edge slabs for a furniture making company.
Zuzu's Petals – Discussions regarding decarbonizing compost disposal processes for a floral business.
Principles GI Coffee House – Discussions and planning regarding decarbonizing delivery of baked goods on a daily basis via alternate means such as cargo bikes instead of fossil fuel-powered vans.
Brad on human electric bike
Development of Further Decarbonizing Systems
Application for Grant – Park Slope Civic Council – Effort to grow and fund the Vulture Carting cooperative of cargo bike enthusiasts that have grown up at Principles GI Coffee House.
Discussions with Pacific Northwest Individual regarding possible start of sail freight efforts in greater Puget Sound area.
NYC Financial District – East Side Resiliency Plan – Attend meetings and provide input suggesting the creation/incorporation of a green shipping incubator pier in Lower Manhattan.
Blue Highways RFEI – Speaking with multiple parties about the need to increase participation and engagement on the effort to transfer more freight to waterborne means in New York City with sustainable last mile.
Blue Highways Dock Prototype
Please support the Sustainable Logistics Fellow and the important work of the Center for Post Carbon Logistics with a contribution.